Lloydminster's Classic Car, Truck, Bike and Specialty Vehicle Club
The Border City's very own Specialty Vehicle Club.

On a cold Dec 2002, six or seven wayward car crazy people got together with with dreams of starting a new car club. With some hard work and drive the club "Just Kruzin" came about. The club is open to all classes of cars, trucks and bikes.
"Just Kruzin" holds regular Business Meetings on the second Tuesday of every month (except July) at 7:30 PM at the Lloyd EX grounds. Click here to request more information.
Club Membership fees are $25 Yearly or a Family rate of $40 Yearly. For upcoming events, click here.
Back by popular demand: Valve Cover Racing!
Member Cars
Hover over each image to reveal a description. Use the previous and next controls to see more images.
1968 Plymouth Belvedere GTX Clone
440 Engine with a 727 Automatic Transmission and
Gear vendors overdrive. The car also has an 8-3/4" Rear Diff.
This Car is locally owned and driven. You can see it and more at Just Kruzin Kruz nights
1969 Mustang Mach 1
This car was pursued by the present owner for over 20 years. The previous owner decided to sell it, but only to someone would appreciate it and take it to the next level, which was exactly why the present owner was the only one approached. It was originally restored by a father and son team who is now the present owner. Originally a 390 V8 automatic, now boasting a 428 with a 5speed tranny. You will see this classic car and others at Just Kruzin Weekly Kruz nights throughout the Spring, Summer and Fall seasons.
2006 BMW – 3 Series
Second owner car. 6 Speed Standard. 6 Cylinder high performance. Rear Wheel Drive. Custom European suspension
1971 Plymouth Cuda
340 Engine with a 4 speed standard transmission. 8-3/4"Rear Diff. This car is locally owned and driven. You will see it and more at Just Kruzin Kruz nights
1969 Camaro RS
383 stroker, 700 r4, 10 bolt posi 383 gears, willwood brakes, all original sheet metal car from Texas.
1968 Chevy C10 Short Box Step Side
Engine is a ZZ502 with an override Transmission. Full air bag suspension with Bluetooth control. Dakota digital gauges. American custom low back seatsThis truck is locally owned and you will see it at Just Kruzin Kruzin Kruz nights.
1973 Plymouth Barracuda
5.7 Hemi Engine and a 727 Automatic transmission and 8-3/4" Rear Diff. This car is locally owned and driven. You can see it and more at Just Kruzin Kruz nights
1969 Dodge Super Bee
383 Engine with a 727 automatic transmission and a 8-3/4" Rear Diff. This car is locally owned and driven. You will see it and morevat Just Kruzin Kruz nights
1974 Dodge Challenger
This Car was complete restored locally in a frame off restorationhich took place over a 10 year period. All aspects of the car were Rebuilt and upgraded to show room condition. The car has a 440 engine and 4 speed Standard Transmission. It has an 8-3/4 "Rear Diff and is painted factory crazy purple. You will see this car and more at Just Kruzin Kruz nights.
1967 Mustang Coupe
Car was purchased in Regina and underwent an extensive update. Originally silver in color, 15 weekends later it was a sparkling Wet n' Wild red. Powered by a 302 V8 from 95 SVT. The Cam and Carb have been upgraded and backed by a C6 tranny. You will see this classic car and others at Just Kruzin Weekly Kruz Nights throughout Spring, Summer and Fall seasons.
1938 – Chevy Master Sedan - " C Plus" -
Powered by a 350/290 hp GM performance Crate Engine. Originally built in Regina at the GM Assembly Plant purchased in Regina, Usually seen pulling a 1973 Boler Matching Trailer with Matching Mini Bike attached. Travelled as far as Spokane and Northwest States with the entire family. You can see this vehicle and others at regular Just Kruzin events
69 Chevelle Convertible
454 and turbo 400 trans Chevy 10 bolt.I picked up in Wetaskiwin off of the auto trader, where we did a rotisserie restoration. We then brought it back to Lloydminster where Furniture Clinic did the rag top and a friend and I tinkered on it for a few years before having Tekron finish the car for me in 2015.
1969 Beaumont
Beaumont was a make of intermediate-size automobiles produced by General Motors of Canada from 1966 to 1969. These cars were based on the Chevrolet Chevelle; however the ling had its own logo and nameplate, and was not marketed in the United States. Its logo consisted of an arrow, similar to that of a Pontiac, but with a maple leaf to signify its dual heritage from both sides of Lake Ontario.
2000 - C5 - Corvette
All Stock except for Magna-Flow exhaust. 5.7 Litre V8 Engine, Automatic Transmission with 67,000 kms. This car has provided the owner with many enjoyable trips and Kruz's with Just Kruzin Car Club
1928 Essex Sedan
Cut off the roof, welded the doors shut, and now you have what is known as "Da Tub". 302 Chevy with a tunnel ram and daul Edelbrocks, comp cam. Turbo 350, disc brakes on the front, boxed frame, Mustang front end, narrowed 10 bolt with Coil overs. This car screams fun fun fun!
1972 C10 – Long Box
Engine is a 355 Crate Engine, coupled to a 700 R4 Automatic Transmission Rear Diff is a 373 Eaton Posi. Truck has a new updated wiring harness, classic instruments Gauge Cluster. It has a Retro Auto Sound System, and, a new original classic style interior. Paint and body work done locally in 2014. You will see this truck at many local Just Kruzin events.
1968 Ford Mustang Coupe
Originally a 289 2-barrel car, recently upgraded to a 4-barrel high performance carb. Originally sold Winnipeg. This car is locally owned and you will see it at many Just Kruzin events throughout the year.
1964 1/2 Mustang Convertible
Built April 23, 1964. This car was completely rebuilt in 2011 on a rotisserie, detailed underneath and then reassembled. Colour is Sunlight Yellow with Palomino interior, 289 engine was balanced and blueprinted, and transmission was upgraded from a 4 to a 5 speed. The car was driven to the Mustang 50th Anniversary celebration in Las Vegas Nevada in April 2014 and is driven to all car shows.
1979 Volkswagen Karmann Convertible
Sold new in Phoenix Arizona and remained there with the original owner until 2014 when brought to Lloydminster. Last year of the original Beetle. Limited number were made in Mars Red paint color. 33,000 original miles. This car draws a lot of attention at Just Kruzin Kruz nights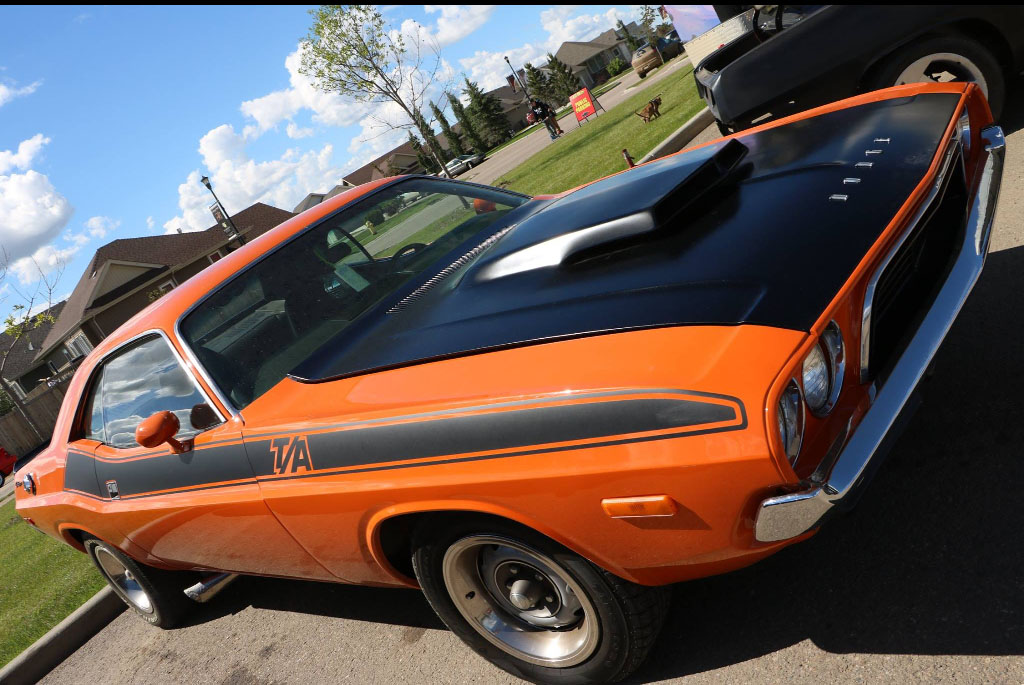 1972 Dodge Challenger
340 automatic
8 3/4 rear end
Vitamin C orange
Owned for 14 years
1931 Ford Model A Coupe
Always had a thing for the hot rods, going as far back to when I as a farm kid with my little hot wheels collection. Guess that is what planted the seed back then and the passion only grew as a person got older. It was only a handful of years ago that my work afforded me the opportunity to purchase my own "full size" hot rod. It is a channelled satin black 1931 Ford Model A Coupe; some refer to it as a 5 window. It has a 283 Chevrolet engine, with a tri carb setup, 700 R4 auto transmission, to a Ford 9" rear. It rides on Firestone rubber with 15" steel wheels. It is a work in progress. I get a kick seeing other people enjoy it too.
1980 Oldsmobile Brougham, 2 dr Coupe.
Engine-350 cid-4 barrel / GM V8 ( #'S MATCHING). Trans - 3 speed GM Automatic ( ORIGINAL ). 71,280 Kilometers ( ODOMETER READING) ( ORIGINAL ). Color - Pearl White. Roof - Factory 1/2 white Landau Vinyl Roof & Factory Sun Roof. Vehicle Age - 37 Years Old. Interior: Factory original GM / Oldsmobile front split bench seat - Burgundy Cloth / Velour. Factory original GM 350 cid V8. ( NON - REBUILT ). Frame - Factory original GM frame - Highly detailed.